Spsss…affiliate links may be used throughout my blog posts. If you buy through my link, I'll get a small percentage at no extra cost to you. Thank you for any support!
Digital products are great to sell because they are free to make and require no physical inventory! You can make thousands of extra dollars online if you do some research on the bestselling digital products on Etsy!
Keep reading to learn the top-selling digital products on Etsy in 2023! For each example, there is an Etsy shop linked that is doing well selling that digital product. Make a list of the products that interest you most, do more research, and then go for it!
Digital Planners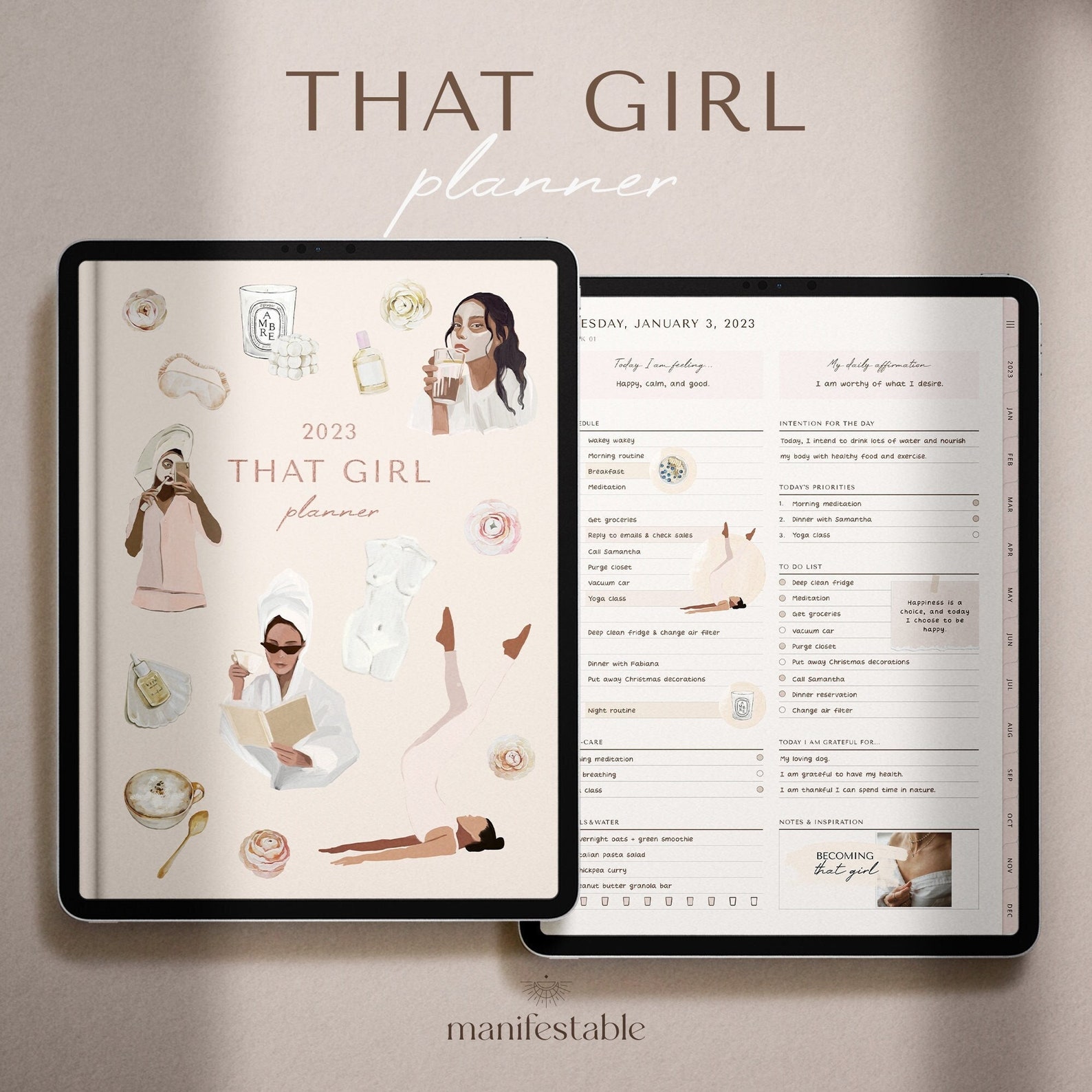 There's a bit of a learning curve to make digital planners, but they are very profitable right now. Instead of printing these planners out, people use them on their iPad with note-taking apps like Goodnotes.
To do well selling these, make sure your tabs are hyperlinked!
This Manifestable Etsy shop started selling digital planners in 2022 and already has over 40,000 sales! They have less than 20 products in their shop showing that you don't necessarily have to have hundreds of listings to make lots of sales (although it can't hurt!)
When looking at competitor shops, analyze what they're doing and why they are making sales. These planners are aesthetically pleasing, speak to a target audience, and are affordable.
Digital Stickers
You can't forget the digital stickers to go along with the digital planners! These stickers can be both functional and decorative. If you're selling digital planners, it's a great idea to have these in your shop too.
You can make digital stickers out of your own artwork, make cute quote stickers or simple things like arrows and rectangles. The Daily Stickers Co only has 31 listings in their shop at the time of writing and has almost 3,000 sales! Take some time to create a quality digital sticker pack and you can do well!
Printable Planners
I couldn't make a list of top-selling items without including these! There are well-established shops on with thousands of sales so it can be difficult to break into the market as a new shop.
A pro tip is to avoid creating general daily planners or weekly planners and make planners with a purpose.
This gardening planner by Proper Designs Studio is currently a bestseller on Etsy. Some other examples to consider are household planners, fitness planners, and student planners! There is so much more to the planner niche than just daily planners and to-do lists!
SVGs
This is a very popular and profitable product because it has various uses and helps other people make money!
People use SVGs to put on different products like T-shirts, bags, greeting cards or to design printable items. Emily Esther Designs does a great job of showing off how you can use her SVGs with her listing photos.
You should also decide if your SVGs are for personal use only or commercial use (people can use your SVGs on items that they will sell). Most people allow commercial usage, FYI!
Party Invitations
People come to Etsy every day looking for party invitations both printable and digital. These are easy to create and I highly recommend you design them for less popular events. The above example shop, Hello Sugar Creations, sells a puppy adoption party invitation that is a bestseller.
When you design for more niche events, there is less competition and it is easier to get ranked high in search results.
Resume Templates
This is a great evergreen niche because people will always be looking for jobs! You can create templates on Microsoft Word, Google Docs, and Canva. Do some research to see what professions are most popular and design templates specifically for them.
It's important to do competitor research and make sure you are offering just as much value. That can look like free bonuses, multiple template versions or multiple sizes included.
The Stand Out Resume gives more than just a resume to customers. Along with the template, people also get a business card template, a cover letter template, and several more bonuses.
Tumbler Sublimations
You may be surprised to learn that one of the top-selling digital products sold in a day was tumbler sublimation designs. Above is an example of what NOT to sell or you risk getting your Etsy shop shut down. Do not sell anything with another brand's logo, images or intellectual property.
Honestly, you may make quick money illegally selling things like this but it's not worth the risk of getting banned from Etsy for life.
Google Spreadsheets
People use Google and Excel spreadsheets to organize their finances, meals and events. There are all sorts of uses for spreadsheets so pick a target person and design for them! For instance, you can help a bride plan her upcoming wedding like the Etsy shop Design Studio Teti or help a busy person prep their meals for the week.
These products are a little more technical to make so there's less competition! If you are a Google Sheets or Excel whiz definitely use those skills and go for it!
Want to make passive income selling printable on Etsy? This course will teach you everything!
Social Media Templates
Business owners, coaches and content creators use templates as a social media marketing shortcut! You can create all kinds of templates from Instagram story templates to Pinterest pins. Most Etsy sellers design their social media templates using Canva because it's a free tool that more businesses are using.
Want to try out Canva Pro? Here's a free 30-day trial of Canva Pro.
This Instagram story template bundle sold by Superhero Design Co is currently a bestseller and it probably has something to do with their gorgeous product mockups!
Crochet Patterns
Etsy is full of people who love arts and crafts so crochet patterns are very popular and have several bestsellers in the category! If you're into crocheting or even embroidery, knitting or sewing, you can start selling your patterns!
You can sell cute animals like Knot Too Shabby Crochet is doing, clothing patterns or blanket patterns.
Digital Paper
Digital papers can be used for a variety of creative projects, including digital scrapbooking, graphic design, and web design. This digital product is fun to make because you can go in so many directions. You can create digital paper with your own artwork or make different textures, watercolor designs, vintage or groovy papers.
Digital papers usually have a lower price point but they are very popular because they have so many different uses.
Classroom Decor
Busy teachers need help decorating their classrooms to make their room a comfy place to learn! There are all kinds of printable classroom decorations you can make like educational posters or bulletin board displays.
This is a cool niche because you can also list your products on Teachers Pay Teachers for more profit!
Calendars
Printable calendars are a popular digital product on Etsy that can be used to keep track of appointments, deadlines, and other important events. They are simple to design making them a great digital product for beginners.
These calendars can include a variety of designs, layouts and themes. You can make your calendars stand out by adding pretty graphics to them like puppies or rainbows or using pretty fonts!
Try out Creative Fabrica! The best place to get unlimited commercial-use graphics and fonts!
Workbooks
Workbooks are fun digital products to make if you have expertise on a subject and want to help people in some way. There are workbooks on a bunch of different topics on Etsy from relationships to self-improvement.
Workbooks typically include exercises, prompts, and worksheets, making them an interactive and engaging resource for buyers. People can print these out or use them digitally on an iPad. The Emotional Health Shop did a great job of creating workbooks that help solve particular issues.
Party Games
This is my favorite digital product to sell on Etsy because party games are fun to make! They are also easy to repurpose into other designs and can be bundled up for over $10. People need entertainment for their parties year-round making this a great niche to be in!
Want to start selling party games but don't want to design from scratch? I have some great PLR party games in my shop! You are able to edit these and resell them as your own.
Gift Tags
You can design all kinds of printable gift tags for party favor bags or treats like cookies or hot chocolate bags. Gift tags are also a great product to have seasonal designs for. For instance, you could have Valentine's Day gift tags or Christmas-themed ones!
Research the most popular gift tag sizes and get to designing!
Party Signs
Party signs add a personalized touch to events and celebrations making them an integral part of party decorations. You can create welcome signs, bar signs or directional signs. You can offer your signs in different sizes to limit the number of customer requests you receive.
You should also offer your signs in both PDF and PNG because different print shops have different requirements. Check out a top-selling shop, Unmeasured Events, that bundles over 20 different party signs to create high-value bundles.
T-shirt Mockups
This digital product is more labor-intensive than others on this list. To sell these, you'll have to stage t-shirts, get some props or models, and have good photography skills. Print-on-demand sellers, especially, buy t-shirt mockups to make their listing photos look more realistic.
It's a great digital product to sell if you are already a photographer and want to help other business owners!
Journals
Printable journals are popular across many niches because people like to improve themselves! You can put together a list of thoughtful questions to help people learn more about themselves and reflect.
You should create niched-down journals like Money Manifestation Journals or Shadow Work Journals because they have lower competition! You can find some journal templates in my PLR shop!
Wall Art
Wall art is extremely popular on Etsy but it is also an oversaturated niche. Many Etsy beginners start out selling wall art and make zero sales because they make wall art that is too generalized. If you decide to sell wall art, do not make motivational quote wall art. Everyone else is already doing that!
I also tend to not recommend wall art because you have to put up 5 different sizes to really compete and it's so much extra work!
Nevertheless, I couldn't leave it out on a list of the top-selling digital products on Etsy 'cuz it's one of them!
Product Labels
Help business owners make their products more beautiful with professional-looking product labels. Many shops offer these as editable Canva templates for products like candles, soaps and cosmetics. Buyers can customize your template with their own logo and branding to make it completely their own.
Greeting Cards
Greeting cards are a great evergreen product on Etsy because people need cards for all kinds of events throughout the year. Just like other products, you'll be better off when you design for specific events! For instance, you can make cards specifically for college graduation parties, get well soon, or funny anniversary cards for husbands.
Greeting cards are easy to make, so there will be a good amount of competition. You can counteract this by putting up a lot of listings – I'm talking hundreds!
Coloring Pages
Printable coloring pages are a fun digital product on Etsy for those who love to color and create art. These pages include a wide variety of designs and themes and can be made for both children and adults. You can get creative as you want with these from llama coloring pages to adult swear word coloring pages.
Bookmarks
Bookmarks are a simple yet practical digital product that actually sells more than you may think! Don't underestimate the amount of avid readers and book lovers that don't want to bend their precious pages. You can make bookmarks with quotes, illustrations or pretty backgrounds.
Do not, however, put book quotes on them because that would be an intellectual property infringement!
So, there you have it! A list of the top-selling digital products to sell on Etsy. For any product you get into, it is important to do product research and to go after low-competition keywords. If you'd like some help picking winning products, my Extra Income with Printables course teaches you how I sold over 100k worth of printables in 2 years!